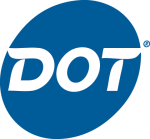 Dot Foods, Inc.
Mount Sterling, IL
Help us develop innovative solutions for manufacturers, distributors and operators as the largest food industry redistributor.
Dot Foods is the nation's largest food industry redistributor.
Since our founding in 1960, we've doubled in size every five years, which allows us to provide ongoing career opportunities few employers can match. Whether you join our family as a driver, warehouse worker or sales rep, Dot encourages employees to pursue career paths in any field. Two-thirds of our managers have been promoted from within, and our fast-paced growth ensures ongoing opportunities.
As part of our commitment to shared success, Dot provides employees with stability, great benefits, career opportunities, performance bonuses, profit sharing, a 401(k) program and competitive wages.
Hallmarks of Our Culture
Customer Focus
Effective Communication
Teamwork
Accountability
Shared Success
Employee Development
Embracing Change